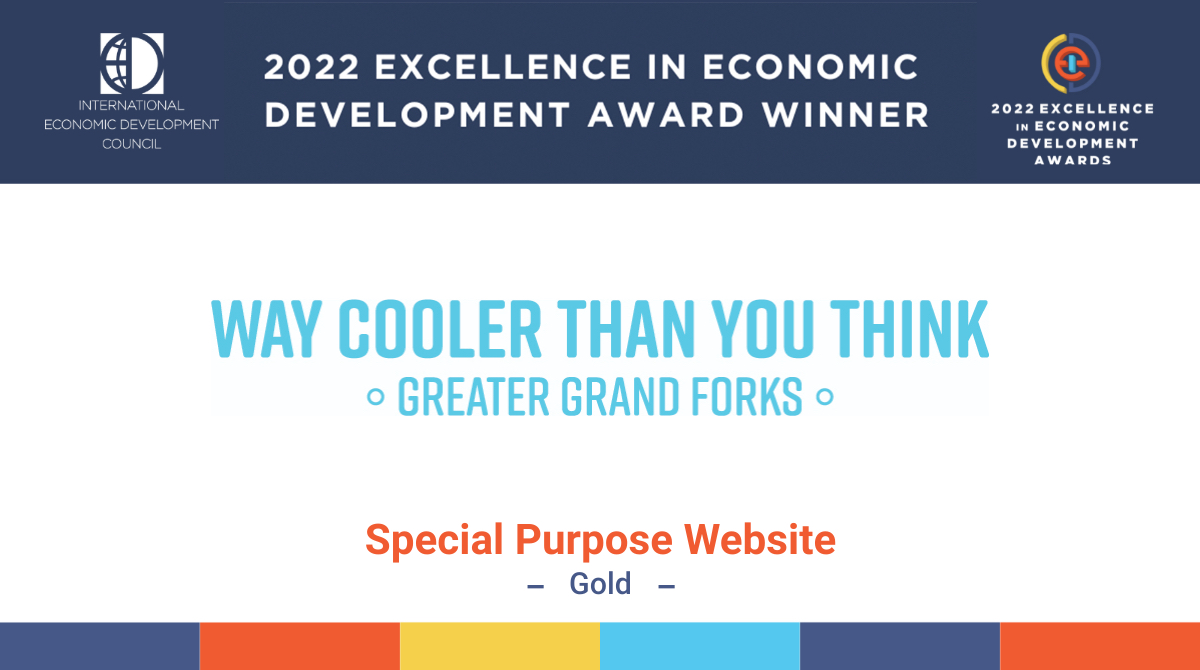 The Grand Forks Region Economic Development Corporation's (EDC) Greater Grand Forks: Way Cooler Than You Think! website (GFiscooler.com) won an international award and was featured as a best practice in economic development. GFiscooler.com took home the gold award for Special Purpose Websites for the 2022 Excellence in Economic Development Awards from the International Economic Development Council (IEDC). The award was presented at the 2022 IEDC Annual Conference in Oklahoma City, OK.
IEDC's Excellence and Leadership in Economic Development Awards recognize the world's best economic development programs, partnerships, marketing materials, and influential leaders. These 25 awards honor organizations and individuals for their efforts in creating positive change in urban, suburban, and rural communities.
Awards are judged by a diverse panel of economic and community developers from around the world. IEDC received over 500 submissions from the United States and four additional countries around the world. Submissions for the Special Purpose Website Award were evaluated based on goal/mission, quantifiable results related to the goal, data type and quality, effectiveness of the message, interactivity, timeliness/relevance of information, quality of content, organization, visual appeal and navigability, accessibility, and overall value for economic development efforts.
"This year's awards selection process was especially competitive. We are honored to recognize the more than 100 communities whose marketing submissions, projects, and partnerships have improved regional quality of life," said IEDC Awards Advisory Committee Chair Christina Winn.
"The EDC is exceptionally honored that the 'Way Cooler Thank You Think' website has received this international recognition," said Keith Lund, EDC President & CEO. "The success of the website and 'Cooler' initiative is due to the region's leadership investment in creating the critical workforce attraction platform and their ongoing efforts to ensure that it meets the needs of our region's employers.  This award acknowledges their efforts and the efforts of the EDC workforce team led by Becca Cruger, Director of Workforce Development."
About Greater Grand Forks: Way Cooler Than You Think
The 'Cooler' initiative was founded in 2017 as a talent attraction and retention program for Grand Forks County, ND. Since its inception, Cooler has launched a website, social media platforms, national digital advertising campaigns, a relocation guide, and a community blog. Cooler works every day to showcase why Grand Forks is a 'cooler' place to live, work, and play. The Cooler initiative was launched with funding from the City of Grand Forks, Grand Forks County, Grand Forks Region Economic Development Corporation, The Chamber of Grand Forks/East Grand Forks, Altru, Visit Greater Grand Forks, and the University of North Dakota. It is now primarily supported by private sector investment. AE2S (Advanced Engineering and Environmental Services, LLC) provides support and maintenance for the current site.
About International Economic Development Council (IEDC)
The International Economic Development Council (IEDC) is a non-profit, non-partisan membership organization serving economic developers. With more than 4,800 members, IEDC is the largest organization of its kind. Economic developers promote economic well-being and quality of life for their communities by creating, retaining, and expanding jobs that facilitate growth, enhance wealth and provide a stable tax base. From public to private, rural to urban, and local to international, IEDC's members engage in the full range of economic development practices. Given the breadth of economic development work, our members are employed in various settings, including local, state, provincial, and federal governments, public-private partnerships, chambers of commerce, universities, and a variety of other institutions. When we succeed, our members create high-quality jobs, develop vibrant communities, and improve the quality of life in their regions. Learn more at iedconline.org.